Corporate Forex Trading Accounts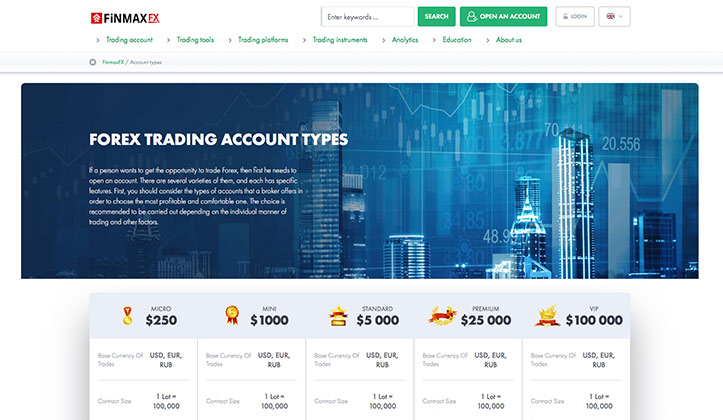 There are lots of reasons why you would want to get a corporate trading account. Maybe your company has a lot of extra funds, and you think you can make profits by trading it on the market. Regardless of your reasons, there are many legitimate websites that you can use to buy and sell currencies. You will even be able to create demo accounts, which you can use to learn how to trade. Since most brokers are compensated using the spread, you may not even need to pay commissions on the transactions.
Below is a top list of corporate accounts from our top British forex trading firms:
Find the best forex brokers offering corporate accounts.
Rank
Broker
Rating
Min. Deposit
Offering
Review
1




Skilling: "Register as an individual first & contact Skilling's support after registration."

2




Capital: "Click on traders in the menu and select institutional and you will soon be up and running with the company account for currency trading. "



How do I get started with a Forex Trading Company Account?
You register in an almost identical way, with the small difference that you enter your company name instead of just the personal name. Often there are special company accounts for currency trading, one click away. You normally only need to select the tab for "corporate forex account" or equivalent if the page is not in Swedish, instead of a private account.
Trading forex as a company is similar to trading as an individual. First, you will need to find a reliable and licensed broker from our top list above. Here are some factors you should consider when selecting a Forex broker:
+Commissions and spreads
+The required size of the initial deposit
+The ease of depositing and withdrawing money
+The currency pairs offered
+The trading platform
It is also extremely important to check the quality of the customer service team. The support team should be available 24/7 since Forex trading occurs at all hours. It is also important to check how easy it is to get a live person on the phone. To do this, you can simply try communicating with the customer service agents. When looking at the trading platforms, you should check how easy it is to enter and exit trades.
Once you've found a good forex broker, you will have to open a corporate forex trading account by providing details of your company. Also, you will have to indicate that you want to trade as a company and not an individual. Exactly what's needed can be found below.
What is needed to open a foreign exchange trading company account?
In order to get a Forex trading account for business, you will be required to provide certain documents. These will indicate that you are authorized to manage your company account when it comes to forex trading. Here are some of the documents you will need in order to start forex trading for business:
+The registration certificate of your business
+The share agreements
+The director's certificate
+Tax return documents
+The latest annual reports of your company
+Certificate of good conduct that has been verified by a lawyer
+Articles of association and memorandum
+Proof of address of the company
+Passport copies of everyone who owns more than 25% of the company
+You will also need to open a bank account for forex trading, and this has to be under the company name.
How quickly are company accounts approved in trading?
It all depends on which currency broker you choose, as well as how big your company is and how many partners with over and under 25% there are. For smaller companies (less than 3 people with a maximum of 25%), it usually takes a maximum of one week, provided that there is no long weekend in that crank. Alternatively, for larger companies with more than 5 shareholders with rating ownership, it can sometimes take up to 10 days.
How fast are corporate accounts usually approved?
Corporate forex trading accounts are approved at different paces, and this will usually be determined by the size of the company and the number of shareholders with more than 25% stake in the company. Also, companies with large numbers of shareholders with less than 25% will typically take longer to be approved. If your company has more than three people with shares of less than 25%, the forex trading account should be approved within seven business days. If the company has more than 5 shareholders, the approval process may take even more than ten days. Since different forex brokers operate in different ways, you should always consult the customer support team for exact details.
Is forex trading a business or gambling?
Before you get a corporate forex trading account, you will have to understand the difference between forex trading and gambling. Unlike gambling, forex trading can be improved by applying strategies, so you don't entirely depend on luck. There are lots of books dedicated to teaching traders how to eliminate risk in forex, so you will not be in the dark. Although luck can help you make good profits once in a while, you cannot depend on it for consistent profits in forex. Traders always have to learn different strategies before they start buying and selling currencies. As such, they are more capable of leaving their emotions out of their investments.
Also, you will be trading assets that are used for purposes other than investments, and the market itself involves banks and other legitimate institutions. On the other hand, gambling does not involve the buying of assets. Casinos also typically face challenges on the legal front since many governments have to regulate the activity. Otherwise, a large proportion of the population can end up facing financial difficulty due to gambling.
Bank account for companies
If you need to open a bank account for the company, with an associated debit card, we also recommend Revolut Business for this purpose. They offer the absolute best exchange rate, with interbank rate exchange rates, between different currencies and now one of Europe's largest card issuers.