Forex school: Learn how to trade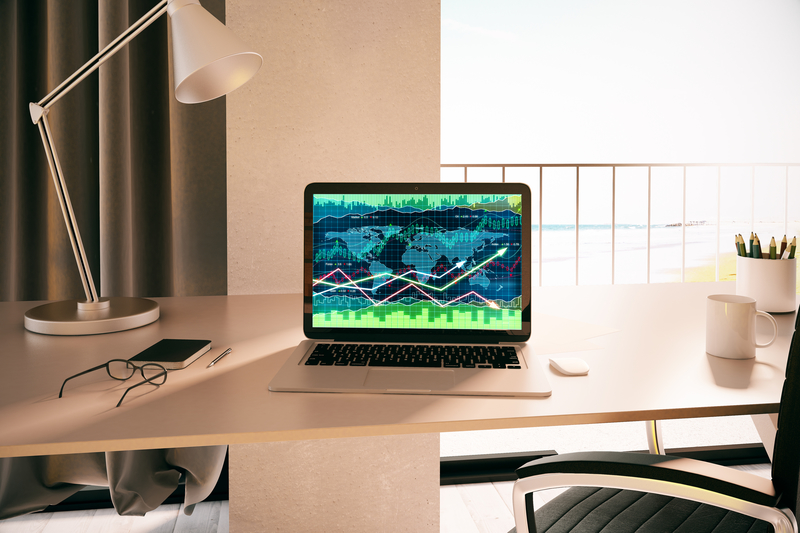 Forex trading, shares or commodities on CFDs, means fast movements and great opportunities to make money if you are persistent and follow your strategy.
When you are trading currency, it is often a good strategy to specialise in a certain currency pair, or a maximum of two different ones. This will make it easier to really learn how some currencies move over time.
Alternatively, some people trade in stocks on days when it is unpredictable in the foreign exchange market and perhaps there are clearer trends in the stock market? Go through our currency school to learn more about currency trading – the world's largest market – and what can really make a difference when you trade.
Learn forex yourself


Through our educational videos for forex trading, you can learn how to get started. If you prefer to watch a video over reading, this can be a great option.
Glossary for forex trading


Are you unsure of any words? In our short but concise forex dictionary, everything is the most important that you need answers to. If you are missing something, just use the live chat and ask, or send us an email and we'll come back at our earliest convenience.
New at forex trading?


The first thing we usually recommend is to read our 25 tips for beginners in currency trading. It's a great way to get started and can make you realise the the importance of certain economic indicators to predict how the market may move and where there is resistance and support. Also check out the article on what are pips and pipettes in our currency school.
Fundamental analysis then?


Although technical analysis is a heavy factor in today's currency trading, fundamental analysis is also essential. This includes everything from how to handle inflation, to statistics on unemployment from Statistics Sweden, historical and expected GDP, interest rates and industrial production. Read our overview of fundamental analysis in trading.
What can affect the exchange rate?


Are you wondering what can affect exchange rates? We have a whole section with this, where over 50 potential factors are addressed. The more you understand about currency trading, the better you can succeed with trading. Here we really go into depth and start with some of the basic factors and go into considerably more advanced reasons for exchange rate changes in the end. See what can affect currencies here.
RSI, Bollinger & other technical analysis indicators
There are lots of different technical indicators that can help. Our currency school addresses some of the most important, such as Bollinger Bands and Stochastics as well as the Relative Strength Index (RSI). But we also have individual articles with, for example, the Pitchfork indicator as well as in-depth comparisons such as RSI vs Stochastics as buy signals and when each works.
Different strategies for forex trading
There are a variety of strategies for those who want to trade currency. While day trading is a more general term for many different types of traders, position traders, news traders, scalpers or swing traders are clearer strategies. Read more about what works in our section on proven strategies for currency trading here (will come soon).
Automatic analysis of currency pairs
For anyone who likes to get it easy in their currency trading, then maybe autochartist can be something? It works by automatically showing you how likely it is right now – according to technical analysis factors – that a currency pair, stock or commodity is about to turn around. Read more about autochartist here (soon), or try cTrader where several currency brokers offer Autochartist for free to all customers.
Try a demo account

One of the best ways to practice forex trading is through a demo account. In this way, you get access to the platform, can discover the system and get a feel for how everything works – with fictitious means. Most of the leading trading sites that we usually recommend – allow people to try a demo account. Some of the options come from: AvaTrade (demo), Capital (demo) or Skilling (demo).

How do I choose a trading platform??
Just like the principle with demo accounts, that you try them out for free, is rather similar when it comes to trading platforms. It is simple and risk-free to try and gives you a clear experience of the interface and user-friendliness. There are three types of trading platforms; self-developed from the currency brokers themselves (such as eToro CopyTrader or Swedish SkillingTrader), third-party solutions such as MetaTrader 4 and cTrader or trading platforms for various devices such as computer or mobile. Check out our overview of all trading platforms here.
Candlesticks or other graphs?


One of our favorites to directly see how currencies move involves using graphs called candlesticks. These are designed in such a way that you can quickly indicate if a course is going up or down, or if there is a turn in progress. Other alternative ways to get help with your currency trading include so-called price action trading.
Create a trading journal


Trading journals are like diaries. You follow all your trades, opportunities, profits and failures – to learn more about yourself and your trading. What can be improved? What was done really well? Try creating your own trading journal today.
Which brokers are there on the currency market?


The market for foreign exchange trading consists of investment banks, central banks, larger banks, medium-sized banks and a number of other players. Who do you know? In addition, it is good if you are aware of the different types of currency brokers available to you. Read more about the players in the foreign exchange market now.
Do you know the most traded currency pairs?


Are you wondering which currency pairs are the most traded? Although the UK is the world's 21st most populous country, the British currency is the 4th most traded according to BIS. Most traded of all currencies is the US dollar, followed by the euro and the Japanese yen. See an overview of all the figures from the last two major surveys on which currencies are traded the most.
Trading while sleeping?
OK, it may sound simple but is probably not quite as smooth and simple in reality. You need to refine and fine-tune to succeed with automatic trading that allows you to use MT4 to make money while doing other things.
What does rollover mean? How does it work?


Since forex trading with CFDs is leveraged at 10-25x the stake, you must also consider the interest rate for the different countries' currencies that you trade. It's a way to make money on certain high-interest currencies, automatically, every day – while other lower-interest countries cost a small penny every day. Learn more about how rollovers work (coming soon).
Tools for predicting price movements


What are the tools that can predict price movements in currency trading? Here we go through all the most important, most interesting and a number of startups. Read more about trading tools worth looking into here (coming soon).
How can spreads be explained in currency trading?


Spread is the difference between the bid and ask price of a currency pair. While very liquid currency pairs have an extremely low spread, it is significantly larger for currency pairs such as SEK or NOK. If you want to know more about the background and how everything works with spread, read here.
Fast execution of trades


Really fast execution in forex trading can be invaluable. But what is it that affects the speed of your trades? What can be done to get faster order completion? Read more about fast closing when executing orders here (coming soon).
Where can you not trade currency?


We at ForexTrading.uk normally write about good places where you can trade currency and discover more about currency trading. But there are, after all, several incredibly beautiful, or different places, where currency trading is not possible at all – for various reasons. There may be rules that govern whether you are allowed to trade currencies or not and it may be a lack of connection speed that puts a stop to it. If you want to get inspiration about places you should not go if you want to be able to engage in trading, then you have a top 10 list where you can not trade here. But of course we also try to find solutions to the problems, so it will be possible to have fun with forex trading – despite various difficulties in the countries listed (coming soon).
How has inflation been so far?


It is always good to know the history to be able to decide what could happen in the future. Here, Valutahandel.se goes through historical hyperinflation from Argentina in the 1970s-90s, Brazil in the late 1980s and early 1990s, the Roman Empire, England, Israel's worst year and Mexico's monster inflation that created Nuevo Peso. See for yourself the top list of the countries worst affected by inflation here!
Do you want to learn more about the size of the foreign exchange market? Check out the latest survey of BIS (coming very soon).
As a beginner: How to do it?
All in all, it is important to learn the basics of forex trading for newcomers, before getting started. As a newcomer, you can learn a lot by reading various tips and guides to learn how to trade currency online. That's why we have a fairly large section here at ForexTrading dedicated specifically to learning forex trading. When you have read most of it, you can then start gradually, with smaller amounts and thus without risking too much. Another important part for beginners is technical analysis, something that many have probably also encountered during stock trading. The only advantage is that methods for technical analysis work even better in the foreign exchange market, as liquidity is higher, there are more players and it is more difficult to manipulate. Insider trading, for example, is not a problem when trading currencies, but is one of the major risks for stock traders. Do not forget to keep a trading diary to really succeed in learning your own style and what works and does not go so well.
How much money do you need to invest?
The best way as a beginner in forex trading is to deposit an amount that is reasonable for you. Everyone's financial situation is different and it is impossible to give an exact estimate of the amount. On the other hand, it is important to never invest too large a share of one's trading capital (bank roll) in an individual trade. We recommend that you stick to levels that feel reasonable for your financial situation and always use a 'stop loss' and 'take profit' level to have a strategy behind each business.
What does leverage mean?
Leverage gives some currency brokers the opportunity to "mortgage" their bet and have a greater effect on trading. No loan is X1 (ie no multiplier on the amount you trade with). Do you have e.g. $ 200 to bet on your own money and you can get a loan on X3, X5, X10 or maybe as much as X100 and the bet is multiplied by the leverage. With commission-free currency trading, you can get minimal spreads.
A leverage of, for example, X10 thus means that when you trade with 200 * x 10 loan, it will thus be 2000 with the help of the currency broker's money. The effect of this is that when the exchange rate moves only slightly up or down, you get 10X greater gear on the change. In this way, you can get small changes in the exchange rate, in just a few pennies to get really big. It is worth noting that for cryptocurrencies, leverage is not allowed in the UK.
Islamic forex trading
Do you want to trade correctly according to Sharilag? Then you can read more about Islamic account for currency trading . Both "haram" factors such as borrowing and interest rates are addressed and how to avoid this, but also halal factors in trading financial instruments such as quickly handling an order between two parties without delays. Direct management of transaction costs is another factor advocated by Islam. Instead of running with an account that has interest, Islamic accounts can completely avoid this and instead handle transactions without interest. With us, you will find currency brokers that offer just that. Note : We at Forex Trading always recommend running a "regular" online currency trading account. It simply provides better terms, lower spreads and lower costs. It only "sounds good" for some Muslims with an interest-free foreign currency account, but in reality it is mostly a disadvantage to trade in this way.
Inflation or deflation?
Inflation means an increase in the money supply, which leads to a decrease in the value of the currency. If there is greater access to money, the country's economy is doing well, people have good wages and many are in work, inflation can be quite high.
The opposite of inflation is called deflation and, on the contrary, means that the money supply decreases. People thus have less access to cash and the value of money increases. This means that people who have good access to money have an even better purchasing power in relation to costs. The price level thus falls. Both deflation and inflation are usually measured indirectly with reference to the consumer price index (CPI). Therefore it is also a very important parameter to keep track of. Sometimes the authorities release reports on the CPI, which can have a certain effect on current currency trading in connection with the publication of those reports.
Inflation or Consumer Price Index is just one example of many macroeconomic parameters or different types of reports that can be good to try to stay up to date on. Therefore, we have an economic calendar that shows the date of national and international important events, which is good to know if you are invested or want to invest in a trading position.
Hyperinflation
A big problem especially with e.g. hyperinflation when a currency loses value. This has happened a number of times and then one needs millions or maybe even billions of currency to daily trade. In general, this means great opportunities to trade and make money on the currency, but it is all the more important that you make reasonable stops and take home the profit at the right level.
Get started and trade for real
You learn nothing without trying how it really works. Register in under 1 minute.

Rating:
9.56/10
Minimum deposit:
100 GBP
Description:
Try forex trading through Skilling with CFDs. Get started in 30 seconds.
Risk warning: 63% of retail investor accounts lose money.
---