MetaTrader 5 (MT5)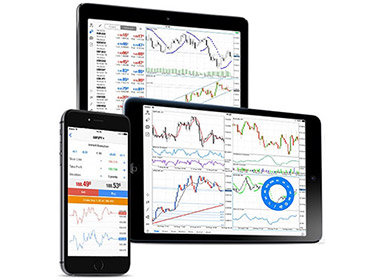 Curious about one of the most popular and definitely the newest trading platform from MetaTrader? ForexTrading.uk gives you a complete guide to everything there is to know about MetaTrader 5 or simply MT5 as it is often called.
You get info on everything from interfaces and available account types, to trading opportunities, instruments, unique features, screenshots, leading MT5 trading sites and much more. See an overview of all that trading opportunities through MetaTrader 5. Finally, tips and advice are given on how to get started with this trading platform the fastest and easiest. Continue first below to see our top list, followed by an internal menu with more options..
See our top list covering the best brokers with MT5, showing the ones with highest rating first.
Rank
Broker
Rating
Min. Deposit
Offering
Review
1




AvaTrade: "Use a reputable platform that's available in multiple languages."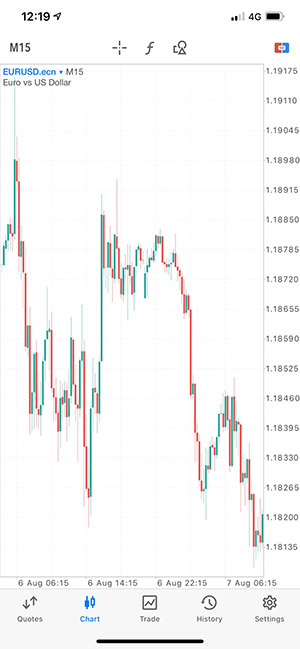 What is MT5?
MetaTrader5 is the latest in a series of technological innovations from the Cypriot company Metaquotes Software Corporation, and the renowned sequel to the world's foremost and most used trading platform of all time – MetaTrader4. However, it is not brand new. MT5 was launched in 2010, five years after MT4 was introduced to the market, and is mainly designed for trading in markets other than the forex trading – which is the market for which MT4 is primarily developed. That's not to say that MT5 does not also work for forex, but it's built for a wider audience. More specifically, MT5 has functions for, for example, covering stock and commodity CFD trading that MT4 lacks, and which have been developed to meet the needs of these markets in general and American markets in particular. MT5 is developed with SQL5, while MT4 is developed with SQL4. You can see how it looks like on a computer screen, a tablet and a mobile to the right.
MetaTrader5 is available as a web, desktop and mobile platform and is used as an integrated third-party solution by several established online brokers – including the super professional AvaTrade – which is outstanding on mobile. The graphical user interface, lots of technical indicators and advanced trading applications for, among other things, algo trading and bots as well as an unlimited number of charts make MT5 one of the most intuitive and qualitative platforms on the market for online trading.
What does MT5 look like?
User-friendly design, really good opportunities to be able to tailor the layout to your own liking and taste and a striking clarity. MT5 is created by traders, for traders and is both simple and convenient to use – without for that matter feeling the slightest bit simple.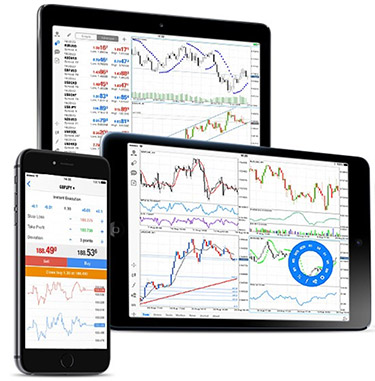 MetaTrader5 is bright, easy to understand and navigate – with clear menus, good interfaces and of course the ability to have several charts and windows open at the same time.
Automatic trading with one of all the thousands of trading applications you can download or design yourself.
The platform is optimally developed for mobile users – both phones and tablets. Many of the MT5 users skip the computer and instead only use it on a mobile device. Just like in browsers and via the downloadable desktop version, the design is light and you have full access to all functions.
What are the basic 5 functions?
With MT5 you can buy and sell assets, change the volume of positions, use smart tools such as stop loss and take profit, tailor charts and layouts according to your own needs and wishes, and download and apply automated trading systems (EAs) and trading robots.
MT5 Quotes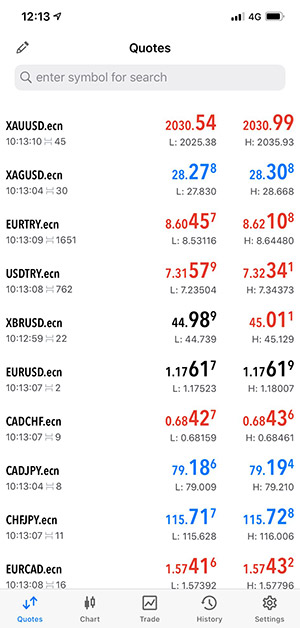 MT5 is one of the best, most compatible and most intuitive platforms for mobile use. The mobile function for quotes shows the instrument's name, ask price, bid price, spread, time for latest quote, lowest daily price and highest daily price. At this page there is lots of good information, tips and advice on quotes for MT5.
Why do I get a lower spread with MT5?
There are not really any guarantees for lower spreads with MetaTrader 5, but in general most traders actually tend to end up at a lower level when trading with this platform. Why? We find the answer primarily in the underlying technology – ie the technical infrastructure on which the platform is based. Online brokers with MetaTrader5 as a third-party solution can thus offer more intuitive information technology, better liquidity conditions and better order depth that provides faster executions.
What is required for automatic trading with MT5?
Both MetaTrader5 and its predecessor MetaTrader4 are known for offering an optimal environment for automatic trading – or algorithmic trading as it is also called. At MT5, algotrading is possible through the specially designed and fully integrated development environment MQL5 IDE, within which full access to applications with so-called Expert Advisors and trading robots is provided. No previous programming experience is required to take advantage of the features, which also makes them an excellent start for inexperienced algo traders.
Applications for automated trading are called Expert Advisors – or EA. Several benefits can be identified with automatic trading – of which the opportunity to actively trade around the clock (without having to be present) and reduced risk of ill-considered decisions are perhaps the two main ones. EAs and trading robots are often used synonymously, but there is a distinct difference that is important to know.
EAs can be programmed to automatically generate trading signals and notify you of various trading opportunities. Another type of automated trading system is a Forex robot which, like an EA, is a program that can identify market patterns and generate trading signals. Unlike an EA, however, a Forex robot can automatically trade currency for a trader. An EA, on the other hand, will always require a trader to approve a trade manually. With MetaTrader5 you can use both EA's and pure robots – either by designing them yourself or buying in MT's online shop – MetaTrader Market. With MT5, you are also given the opportunity to test different applications (there are thousands to choose from) for free before you decide.
How is MetaTrader5 a better platform?
When MetaTrader4 was launched, the market was more or less taken by storm and the game plan for online trading changed radically. With the release of the sequel MetaTrader5 five years later, margins were moved further – with even better features, especially for certain markets. MT5 is a versatile platform with which you can trade currencies, as well as stocks, options, futures, etc. and also use algo trading and the platform's huge community for copy trading. Thousands of indicators and technical analysis tools are built-in, as well as a generous number of time units, language choices, options for customizing charts and layouts and much more.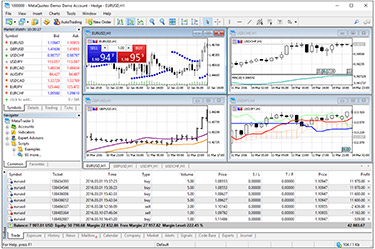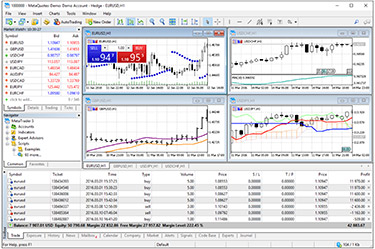 Many online trading brokers offer proprietary platforms that can often be really good, but there is also a reason why a vast majority prefer third-party connections with MetaTrader. The quality is simply outstanding, the platform is proven and the company behind it (MetaQuotes) is more or less synonymous with the best industry standard.
What is the difference between MT5 and MT4?
Calling MetaTrader5 a sequel to MT4 is actually a bit misleading because it indicates that MT5 was developed in order to offer the same opportunities as its predecessor – but in a better and sharper way. The similar layout of the user interface and the fact that they are both de facto trading platforms designed for marginal trading can certainly lead one to believe so, but MetaTrader5 was actually developed with a focus on a different market and other functions.
The most distinct differences between MT4 and MT5 (apart from the fact that different coding languages ​​are used; MySQL 4 and MySQL 5 respectively) include that MT5 is more aimed at stocks, commodities and other non-forex markets, while MT4 is mainly profiled towards forex. Furthermore, MT5 is also intended to be more attractive to US markets with a function that better corresponds to the US First In First Out rule. Simply put, this means that US currency brokers are required to close certain positions in the order in which they were taken. If you as a trader go long in a unit EUR / SEK, for example, and then take another long position in EUR/SEK – brokers who are subject to the FIFO rule are obliged to execute the first position before the second. In other words, a first in / first out system. The MT4 platform has been criticized for making it impossible for the FIFO rule to be followed because each transaction is logged separately – which allows for loopholes with individual manual handling of each trade. In MT5, on the other hand, all positions are logged automatically, which makes it easier for FIFO to be followed.
Furthermore, MT5 also provides certain programming-related benefits linked primarily to trading strategies and outcome testing, with which MT5 enables incredibly much faster and more flexible outcome tests. In addition, there are more time units, a function for analyzing market depth and two new order types; the purchase stop limit and the sales stop limit. In MT4 there is only a buy limit, sell limit, buy stop and sell stop (which of course are also found in MT5).
Are there demo account for MetaTrader 5?
Several top-ranked online brokers offer MT5 as a trading platform, with the option to test a demo account first. The best MT5 broker with the simplest demo account is without a doubt AvaTrade (see review). To get started quickly, just sign up and wait for further instructions via email. You're up and running in just a few minutes.
Register with AvaTrade today – and get full access to MetaTrader5 and everything the platform has to offer.
MetaTrader 5 for MAC: Is it available??
Yes, you can trade MT5 through a MAC computer if your forex broker supports it. Our own favorite is through an iPhone (Apple iOS) with as large a screen as possible. With such a device, a computer hardly becomes necessary, except when you make trend lines and have to analyze a little deeper perhaps – but today everything can be done from your mobile as well. Mobile trading is also more flexible and allows you to shop when you are on the go, commuting or traveling.
MT5 deposits: How does it work?
Deposit of capital is made via the site for online trading you are registered with. If you have opened a demo account with, for example, AvaTrade, you must complete the registration for an authentic trading account before you can make a deposit. Such registration is usually both very quick and totally free. Same is true for depositing money at a later stage, especially if selecting a transaction method that takes place immediately (for example, debit cards). With the capital well in place, just get started and trade on MT5.
MetaTrader5's best indicators
There are many excellent indicators for technical analysis and here are some of our favourites at MT5.
+Bollinger Bands: Popular price indicator overall and one of MT5's top. With Bollinger Bands you can see upper and lower standard deviations from a market's SMA (moving average) as well as support and resistance. The bands are widely used as an indicator of volatility, where a wider distance between the bands indicates increased volatility and a narrower distance signals a calmer market. MT5 Bollinger Bands can be used regardless of operating system or device – Windows / Android / iOS or computer / tablet / mobile.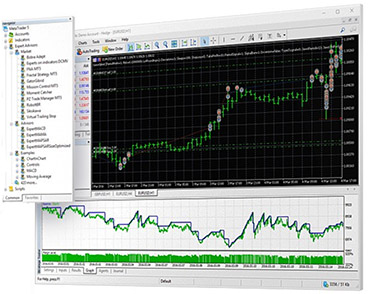 +Fibonacci Bar MT5: An essential mathematical tool for many traders, which makes trading easier and can help determine whether a position should be opened or closed and whether it is time to add, for example, stop-loss or a new profit-taking level. The MT5 Fibonacci Bar identifies similar areas of Bollinger Band's support and resistance areas, but with horizontal lines and different percentages based on the Fibonacci sequence.
+Stochastics Custom MetaTrader5 Indicator: MetaTrader5's variant of Stochastic's Oscillator, with which traders can get help to identify whether a market is overbought or oversold – and based on that predict a future development.
+Relative strength index (RSI): Trend indicator which, like Stochastics, is designed to pinpoint an overbought or oversold asset by measuring the recent gains in relation to the recent declines. The data is always measured for a predetermined time period (usually 9, 14 or 25 days). With RSI for MT5, you optimize your opportunities to strike at the right time – ie buy when an asset has been overwhelmed for a long time (RSI value below 30), and sell when it has instead been overbought for a long time (RSI value above 70).
3 best instruments on MT5
+Gold: The foremost and most obvious safe haven asset of them all. The MT5 platform is particularly well suited for gold trading – which is also an instrument that is found in the range of all the best brokers with MT5 as the platform. Take advantage of the massive range of tools and analysis tools, updated news directly in MT5 and much more.
+Silver: Another exciting commodity that also went strong during part of 2021 as the gold price rose and many are looking for a cheaper variant of precious metal. Like gold CFDs, silver is available for sale at all the leading MT5 brokers, and with MT5 you get the narrowest possible spread.
+EUR/USD: The world's most traded currency pairs, with high liquidity that enables trading with 0.0 pips in spreads among many prominent forex brokers. MetaTrader5 has more time frames, more indicators and new types of trading orders for better currency trading with EUR / USD.
Remember that the above instruments are only tips – if you have another special favorite, you should of course invest in it.
How do I log in to trade through MT5??
An account with a forex broker that uses MT5 as a third-party solution is a must. Both registration and login are usually very smooth, after which you click on the MT5 platform and can start shopping.
What language is MetaTrader5 in?
In terms of programming language, ie the computer language on which the MT5 platform itself is built, MetaTrader5 is created by MySQL5. In terms of selectable language options that you as a user can choose on the platform, there are several available – including Swedish, German, Italian, Spanish, Norwegian, Arabic, Russian, Polish and many more.
Is there a manual for MT5?
Absolutely – at this page you will find a complete manual of all functions in MT5. The manual does not need to be downloaded, but provides full access via the web.