Trading Platforms: A comparison
A trading platform is the interface where you can trade currencies, commodities, ETFs and stocks from. In part, all major forex brokers have their own trading platforms, but there are also some larger and more popular third-party solutions such as cTrader that can be tried here, as well as MetaTrader 4 (MT4) and MetaTrader 5 (MT5).
Below we go through all the leading trading platforms, highlighting similarities and differences between mobile and web-based alternatives. Let's start with the 3 best self-developed trading platforms, before we go into third-party solutions, the big differences between the upcoming players and between web-based and mobile solutions and finally the market's best trading apps. If you want to read directly about some of the best third-party solutions, check out the Swedish Skilling Trader review, the best platform for copying trading – eToro CopyTrader – or the established British plattform called Next Generation from CMC Markets.
3 best trading platforms developed by the brokers themselves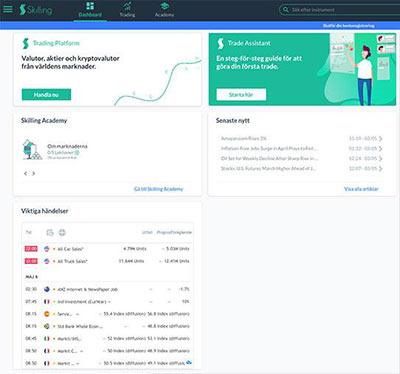 After an in-depth review and detailed tests, Sweden's best online trading platforms have been named. It is not uncommon for currency brokers to develop their very own trading platform. It is costly and requires rigorous testing before it can be implemented. Some actors who have put in solid work to create the best possible experience for their traders are the following:
Skilling: Modern, fast and with a former Google CEO starting it
+ Skilling Trader has the most modern interface and with superior user-friendliness.
+ Skilling (review) provides the clearest information of all about interest costs and leverage.
+ Works phenomenally, no matter what device you use.
+ The fastest of all trading platforms to get started on, 8-12 seconds.
+ Has alternative platforms in the form of MT4, but also cTrader.
+ Automated trading via Skillings CopyTrade which is definitely worth a closer look.
+The former Swedish CEO for Google was part of the startup process.
– Do not have MT5 yet.
– Could have had more Asian currency pairs.
Get started: Create your free demo account with Skilling and get started in 15 seconds!
Plus 500: The largest listed currency trading company in the UK
Listed on the FTSE 500. The world's most capitalised company in forex trading.
+ Plus500 (review) is a CFD provider and they only offer this type of service.
+ All types of trading on one and the same platform. Over 2000 different instruments.
+ Can place manual orders if needed.
+ Really wide range of tools for technical analysis and a lot of news in real time.
– Could have had an even nicer website, even if the trading platform looks good.
– Not so quick KYC compared to for instance Skilling.
Get started: Discover Plus500 here and begin trading with a demo account!
Riskvarning: 72% of all retail clients lose money on CFD trading with this provider. You should think about whether you can afford the high risk that you will lose your money.
eToro: If you want to be able to copy skilled traders, automatically!
+ Get inspiration and trade as the professionals do with "copy trading", at no extra cost.
+ Incredibly nice & well-shaped interface. Really high user-friendliness.
+ eToro (review) has very clear fees.
+ Has flexible leverage for both crypto, currency and stock trading.
– Could have had a lower spread on certain currency pairs.
– Lacks some of the localised support services at night (like Swedish support).
Get started: Learn more about eToro or create a free demo account!
Trading platforms for particular units/devices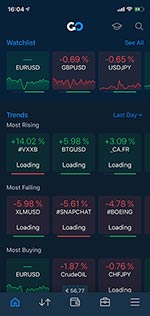 AvaTrade Go – The best for iPhone
The most developed user interface that works on all iPhone mobiles comes from AvaTrade and is a bit pushy called "AvaTrade Go". Whether you want to shop from an iPhone 13, iPhone 12, iPhone Xr or Xs. But of course it also works great on older models, such as iPhone 9, iPhone 8 and iPhone 7, iPhone 6 and iPhone 7 Plus. AvaTrade is very easy to use from the iPhone and you can quickly place and receive orders. Read more about AvaTrade Go here (coming soon).
The best for iPad – eToro
The platform that most people think is best on the iPad is undeniably eToro. Why you might be wondering? Well, they use the height and width in an excellent way and get sold interface completely optimal for iPad 2, iPad 3 and even iPad Pro with even larger screen. Everything goes really fast when trading with eToro and you can always feel confident in the world's largest listed companies in currency trading.
Skilling – The best for Mac (iOS)
If you like simplicity, without having to think, then maybe Skilling is for you? User-friendliness is on another level, with Google's former Sweden CEO as the current head of the company. Here you get everything as nice and easy to understand as it can be. But the conditions are also favorable and you do not have to think but can get started in 10 seconds with a new account. For KYC verification, Skilling also has the quickest method. You can get started with Skilling Trader here!
Apps: The most flexible way to trade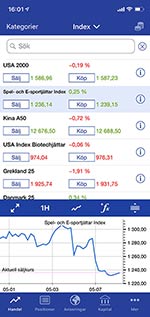 At the touch of a button, you are up and running. Can it be easier than currency trading via a trading app? For many, it is at least the most practical, as you are allowed to shop outside the computer as well.
Why is it so good to trade currency via an app?
There are plenty of benefits to running forex trading through an app instead of through a computer. Here are some of the reasons to skip a traditional trading platform and instead download an app from AvaTrade, Capital or eToro.
+ Can be downloaded quickly and completely free of charge.
+ Developed to work quickly on all mobiles, regardless of model.
+ Updated periodically to give you an optimal trading experience.
+ With 256-bit SSL encryption (https), you can always shop securely.
+ You get analyzes and current market data in real time.
+ Enjoy live prices around the clock, so you can always be up to date.
– Mobile apps can sometimes take up a lot of space on the phone.
The two most popular third-party solutions
By far the largest number of forex brokers have taken their trading platform from a third party, a specialized software developer who bakes all the most common functions in a nice package that works easily and smoothly. By far the most used 3rd party solution is MetaTrader; a reliable platform that works in almost all markets, regardless of volume. But often the trading platforms developed by the currency brokers themselves are even more graphically appealing and some are even faster. Below are a number of third-party solutions that you should consider trying, if you do not like trading currencies directly via the proprietary platform.
MetaTrader 4 (MT4) – The most widely used third-party solution
The foreign exchange market's most used product has been around since 2005. MT4 was created by MetaQuotes Software and is licensed to many different currency brokers in the Swedish market. Its clarity and fast execution are two of the major advantages of MetaTrader 4. Among the disadvantages is that it is cumbersome to download to Mac computer, as you must first install Play On Mac, before you can use the trading platform MT4. Therefore, many prefer the latter version instead.
MetaTrader 5 (MT5) – The latest released third-party solution
In 2010, MT5 came out, the significantly more modern version of MT4. MetaTrader 5 is available both as a terminal, ie downloadable version or as a website where you can log in and get started. It is a really powerful platform for currency trading that is used by both beginners, medium-sized traders and professionals. MetaTrader Mobile is their latest variant that you will automatically try if you trade currency from a mobile phone.
Forex brokers offering MetaTrader
Vår favorit för ECN-trading med MetaTrader 5 kan du få genom NS Broker. Det är en verkligt proffsig plattform med kurser som uppdateras uppemot 7 gånger per sekund. Du får alltså riktigt bra priser, med superlåg spread hos NS Broker. Övriga som kan nämnas är AvaTrade, Markets.com, FX Pro, InstaForex, IG Market, AxiTrader, Trade.com erbjuder åtminstone en version av MetaTrader.
Valutamarknadens mest använda produkt har varit med sedan 2005. MT4 skapades av MetaQuotes Software och licensieras ut till många olika valutamäklare på svenskar marknaden. Dess tydlighet och snabba exekutering är två av de stora fördelarna med MetaTrader 4. Bland nackdelarna återfinns att den är krånglig att ladda ner till Mac dator, då man först måste installera Play On Mac, innan det går att använda handelsplattformen MT4. Därför föredrar många den senare versionen istället.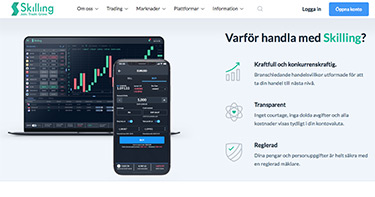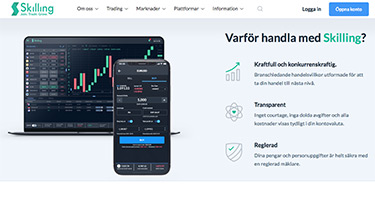 cTrader – Another spotless alternative
Since 2010, the technologically advanced and very easy-to-navigate cTrader has been on the market. Smart and versatile online trading companies such as Skilling have integrated cTrader into their platform, in case you want to use it.
Through Skilling, you can be up and running in just a few minutes with cTrader's trading platform, which suits all types of investors. You can customize your interface to go with your trading pattern. Something unique about cTrader is that they show order volume, which is not available at many other currency brokers. You also have excellent settings for stop-loss and stop-limit, and if you want to buy for a special course, the setting options are also excellent. EUR / USD and falling wedge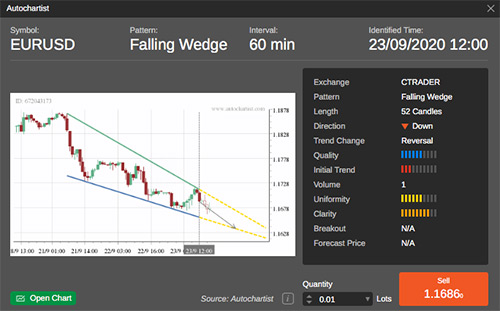 Furthermore, there is a calendar so you can easily access important events in currency trading, index trading or stock trading. With autochartist, you get help to analyze different current currency pairs. An example is the shame dump on the right which shows a "falling wedge" for EUR / USD right now. The quality of this signal is 6 out of 10, which indicates that it is a relatively good signal.
Alternative third-party solutions you should avoid
There are a number of useless trading platforms they should not use. Some examples that are often integrated as "self-developed" but are in fact poor third-party solutions include Trading Station and Zulu Trade. While TradingStation is a product that is primarily suitable for the American market and nowadays you are not even allowed to trade currency on it. In any case, Trading Station has lousy customer support, a poor user interface and it is cumbersome to make withdrawals – so avoid it. The same goes for Zulu Trade, which is one of the worst trading platforms on the market.
Web-based or downloadable?
In a way, it is incredibly easy to shop directly via an application that you have downloaded, or an app. But many web-based trading platforms are incredibly well-designed. In the end, it's a matter of taste what you like and through ForexTrading.uk you can easily see screenshots of the market's best downloadable alternatives, all of which are web-based and the market's leading apps.
The difference between various trading platforms
The big difference is the look and which providers are used to retrieve data. Bloomberg and Reuters are by far the best, but unfortunately they are not available to private individuals. ('Tradebook: Bloombergs Professional Services' is the leading variant on the market, but it is also very expensive – around SEK 350,000 and not so easy to get started on as a beginner).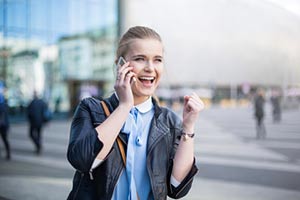 Do not forget this when comparing different platforms
Some important things when choosing a trading platform can be:
+ Is the platform available from the desired currency broker?
+ Opportunity to trade currency quickly: short reaction time, charging time and completely trouble-free operation.
+ Only drive with those who have a free test – the longer the better!
+ Access to a wide range of instruments and markets.
+ Are all necessary order types available (stop-loss, limit-order)?
+ Large selection of analysis tools if you use technical analysis.
+ Real-time news from a credible supplier.
+ Is it possible to use and develop automated trading systems?
+ Qualified customer support who understands your question and can answer quickly.
+ Is it possible to call in an order if necessary?
+ Reasonable costs if you are inactive.
+ Low spreads and fees for each trade.
Finally: Which is the best trading platform for forex trading?
When it comes to appearance and functionality, different devices can make a significant difference. The very "best" trading platform is therefore up to everyone to test and decide for themselves, although of course we do our best to help you along the way.
A platform that is developed exclusively for currency pairs is certainly not the best for those who are also interested in stocks, commodities or cryptocurrencies. But fortunately, most companies now run an all-in-all approach, where a wide range of financial instruments are available.
Another point that we consider important is how the diagrams are presented and how you can use them for your own needs. Here there are big differences in quality, adjustment options and options on different platforms. Some give you extremely detailed information where you can zoom in and check the details very carefully. Other platforms give you a greater overview over a longer period of time. It is thus again a matter of one's own preferences. What do you prefer?
Create a demo account and test it yourself, free of charge. You will easily find something that suits you. We always recommend that you experiment with demo accounts and familiarise yourself with the features and the broker before you dive in with your head first and start investing your own money.