How is forex traded without leverage at Capital?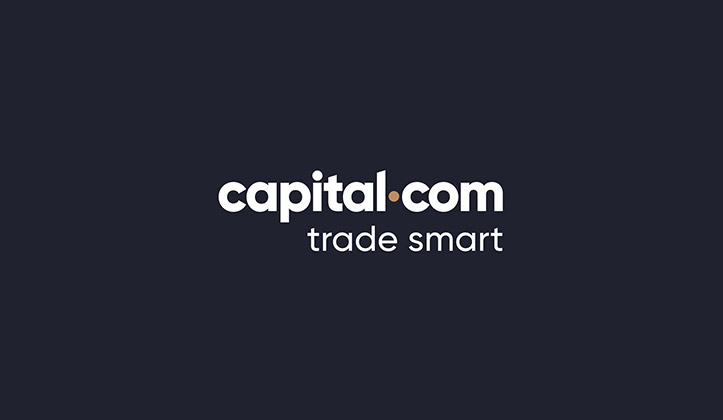 The popular online broker Capital offers forex trading both with and without leverage. But how do you trade forex without leverage – and why are different levels of leverage offered? ForexTrading gives you an introduction to how it works.
With almost 800,000 registered customers worldwide, the majority of issued licenses both within the EU & the world, as well as access to instruments in over 3000 markets, Capital is one of the market's most hyped and fastest growing brokers for online trading with CFDs. One of the site's main advantages is the flexible conditions for leverage that are offered for forex trading, among other things. Terms that make it possible for users to trade with different levels of leverage – as well as completely without.
Do you prefer to avoid leverage? Capital gives you the opportunity
While at least 85% prefer to trade with leverage according to our questionnaire, there are a small number who are happy to choose trading completely without any form of leverage. Maybe the reason is that you want to risk less and are rather satisfied with a small profit, rather than a too high risk.
Forex CFD trading without leverage can be a good option for those who only want to trade for money you actually have. The potential profit or loss will probably be smaller if you trade without leverage (unless you invest a lot of equity, of course), but the same also applies to the risk level. Below you will find a simple overview of how to proceed to trade currency with CFDs without leverage on Capital – and what the purpose is of offering several different loan levels for customers to choose from. Try Capital yourself without leverage today!!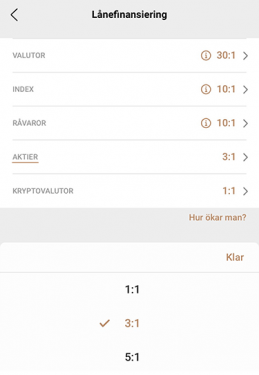 Maximum leverage, or minimal – a matter of taste
Whether you prefer to maximize the leverage at your positions, to take a reasonably high leverage or to avoid borrowing altogether is just a matter of taste. Some traders are more risk-averse than others, and in addition, all have their own financial conditions to start from.
Forex trading at Capital is one of the site's most used services. It is both quick and easy to get started, there is an extremely generous range of different currencies to trade (as many as 120+ currency pairs in fact) and security is high as the platform is regulated by both FCA and CySEC – which are considered two of the leading financial regulatory bodies in the world.
When it comes to leverage in foreign exchange trading, there are thus several different levels to choose from at Capital. Since the broker is regulated within the UK, the maximum level is 1:30 for larger currency pairs, in accordance with current UK rules. If, on the other hand, you prefer lower forex CFD leverage than that, you can then change your position to choose leverage with 1:20, 1:10 or 1: 1 – which means zero leverage. You can easily select the leverage level from a drop-down list. For commodities, the levels are 1x leverage (ie no collateral), 10x or 20x leverage.

Rating:
9.67/10
Minimum deposit:
250 GBP
Description:
Trade 120+ currency pairs and other instruments with record low spreads. Test Capital today!
Risk warning: 75.26% of retail investor accounts lose money when trading with Capital.
---
Why different leverage levels?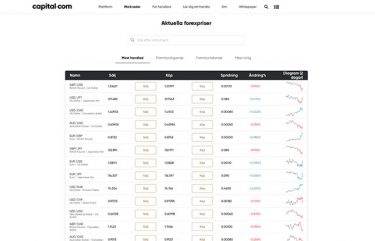 Capital values customer satisfaction and a high level of service they provide for all their users. This is clearly expressed in the information available to read about the company on the website. The ability to choose different leverage levels is probably part of the quality service the site wants to offer. The fact that you as a user can choose and adapt your loan for different positions and different currency pairs contributes with an appreciated flexibility that is not available with all brokers.
The level of leverage you want to use can vary based on both the size of the position you want to open and the current currency pair and how much capital you have to invest. Sometimes a 1:30 leverage may be preferable, while 1:10 or maybe no leverage at all may be a better choice another time. The fact that there is room for flexibility is only positive for you as a customer.
Higher leverage can provide greater profit – but is also more risky
If you have limited experience of currency trading with leverage – or leverage trading in general, regardless of instrument – it is important to understand how trading with loans works before you go into it.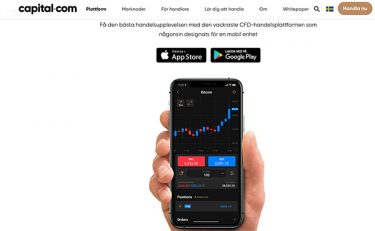 Capital mobile app A leverage gives you the opportunity to larger positions and get more exposure even if you do not have much capital to go in with yourself. Trading with leverage also means that you do not have to invest so much of your own money. For example, if you want to enter SEK 5,000 in a currency trade, the position with a leverage of 1:10 will instead be worth SEK 50,000 – or SEK 150,000 if you choose leverage at 1:30.
The movements are often small in the forex market, which is why larger positions are often needed for there to be any profits to talk about and for most things not to be eaten up by fees.
At the same time, borrowing of course also means greater risk-taking. If you trade with a leverage of 1:10 or 1:30, you are de facto trading with money you do not really have yourself. If your trade does not go as expected, there is a risk that you will make a large loss.
Risk awareness and never trading for more than you can afford to lose is thus extra important in leverage. Today, there are lots of online brokers that are not regulated in the EU and which can thus attract with loan levels of 1: 100, 1: 200 or even up to 1: 500-1: 1000. Trading with such high levers is significantly more risky than the levels allowed within the EU, which is why we at Valutahandel first and foremost recommend currency brokers licensed by one of the European supervisory bodies.
At Capital, you trade with high security and on the best terms – open your account with Capital today.

Rating:
9.67/10
Minimum deposit:
250 GBP
Description:
Discover a leading forex broker with CFDs with one of the most innovative platforms. Register at Capital today!
Risk warning: 75.26% of retail investor accounts lose money when trading with Capital.
---
Get started smoothly at Capital
If you want to be able to get started quickly with currency trading or online trading with adopt instruments – either with or without leverage – Capital is an excellent choice. Both on the website and in the app, it is possible to register and open an account in just a few minutes. Capital prioritizes security for its customers and thus applies a customary KYC process, which means that it can take a day or two for your account to be verified. Once finished, however, just start shopping. Deposits can be made through a number of methods – including with credit cards and via various digital wallets.
More details about Capital can be found in our review. But since you can create a demo account for free, you can try it completely risk-free. Sign up for a demo account now!
Published:
Author: Emelie Rubenson

TAGGAR
---
Other similar news
Below you can see more similar news if you want to learn more about this subject or find related topics.